One of the most important poets and playwrights of early modern England was Christopher "Kit" Marlowe. In the emerging world of Elizabethan theatre in the late 1580's, Marlowe's pen was arguably the most affecting and "most admired, envied, and widely imitated playwright in London" (Kuriyama 81). But his mysterious life was cut short and his theatrical legacy soon eclipsed …
Christopher Marlowe was born in February 1564, just a few months before William Shakespeare, to a Canterbury cobbler named John and his wife Catherine.  As a teen, he attended Corpus Christi College in Cambridge and applied his university education to translate the elegies of the Roman poet Ovid and compose some of his first plays: Dido, Queen of Carthage for a boys company and the popular Tamburlaine for the Admiral's Men (Maguire 43).
His two-part Tamburlaine helped to usher in a new aesthetic of Elizabethan drama written in blank verse and "highly charged rhetoric" which was "something very different from the jangling rhymed couplets [audiences] were accustomed to" (Shaw 39). Marlowe then produced a series of plays full of "exotic and unfamiliar locations" that would be published after his death: The Jew of Malta, Edward II, The Massacre at Paris, and Doctor Faustus (Bevington xi). As his popularity grew, his presence in the early modern theatrical scene solidified. Dramatists like George Peele called him "the Muses' darling," Thomas Heywood praised his "rare art and wit," and Ben Jonson famously referred to Marlowe's "mighty line" (B1v; 206; A4r). Marlowe's style and rhetorical influence can also be found in Shakespeare (the New Oxford edition of Shakespeare's works recently chose to list Marlowe as a contributing author to his Henry VI plays).
The notorious elements of Marlowe's life and death, however, have tended to overshadow the importance of his literary influence.
During his education in Cambridge, Marlowe was often absent and rumored to be overseas in Rheims, France with Catholic sympathizers.  In 1587, when his Master's degree was in jeopardy, the Queen's Privy Council intervened on his behalf so that he could be free of unwarranted suspicion, saying "he had done her Majestie good service … touching the benefitt of his Countrie." The peculiar event has since lead many scholars to question whether Marlowe was working as a spy or informant for the government regarding Catholic conspiracies in Rheims.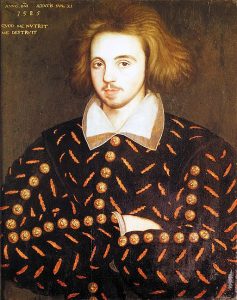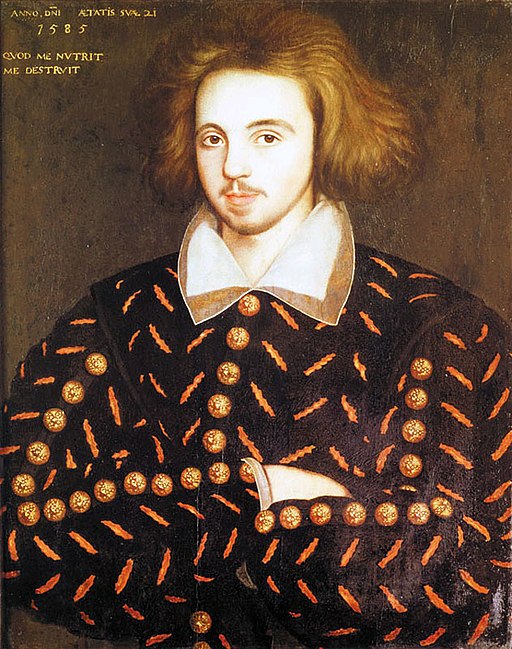 "While we might like to imagine that Marlowe was involved in some glamorous game of espionage, in fact this is rather unlikely … A student just finishing his M.A. degree would be a poor choice for a major assignment … Rheims was a perilous place for an amateur to play spy." (Kuriyama 70)
Whatever his relationship with the government, Marlowe soon developed a reputation in London as a bold atheist and his historical legacy as a troublemaker took hold. In 1592, shortly after he was thrown in jail for participating in a fatal duel and around the same time that he was accused of pulling a dagger on a tailor, Robert Greene (a fellow "University Wit") seems to have accused him of atheism (Kuriyama 83). Greene's Groats-worth of Witte mentions a "famous gracer of Tragedians" with whom Greene had once agreed that God did not exist. Then, in May of 1593, several controversial events came about in quick succession.
It began when libelous notes threatening Protestant refugees were found posted around the city of London. One that was discovered on a Dutch church was written in iambic pentameter, referenced Marlowe's plays, and had been signed by someone calling themselves "Tamburlaine." The Privy Council then called for the arrest of those responsible and the playwright Thomas Kyd, Marlowe's former roommate, found himself in custody the next day.  When the authorities found pieces of a heretical text among his possessions, Kyd claimed the pages belonged to Christopher Marlowe (Riggs 37). The Privy Council issued a warrant for Marlowe who was presumed to be staying with Thomas Walsingham (a relative of Sir Francis Walsingham, Queen Elizabeth's secretary and a key figure in uncovering the Babington plot to usurp her throne).1 Another anonymous report claimed Marlowe was involved in atheistic literature as well as consorting with Sir Walter Raleigh (known for his association with the "School of Night"). Then the Privy Council received a note from the spy Richard Baines alleging multiple, specific blasphemies on the part of Christopher Marlowe, including the infamous claim that he had said 'All they that love not Tobacco and Boys are fools.' Baines was already known to have accused and disgraced Marlowe the year before for counterfeiting coins (Riggs 34). In a few short weeks, the playwright's standing as a controversial free-thinker had transformed to that of a dangerous anarchist.
On the evening of May 30, Christopher Marlowe attended a house in Deptford with three other men, including one named Ingram Frizer.  Toward the end of the evening, Marlowe and Frizer began to argue about the final bill (or "reckoning") and Marlowe reportedly got up from where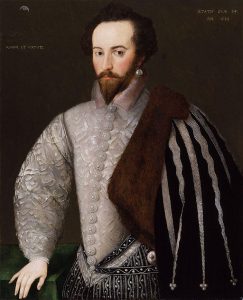 he lay on a couch or bed behind Frizer. The surviving coroner's report noted that Marlowe grabbed the dagger Frizer was wearing on his back and gave Frizer two wounds on the head. Frizer immediately struggled with him over the dagger:
"… and so it befell in that affray that the said Ingram, in defence of his life, with the dagger aforesaid of the value of 12d. gave the said Christopher then & there a mortal wound over his right eye of the depth of two inches & of the width of one inch; of which mortal wound the aforesaid Christopher Morley then & there instantly died …" (Hotson 33)
After an inquest, Frizer was found to have acted in self-defense and was pardoned. Marlowe was buried in an unmarked grave in Deptford's St. Nicholas church.
The timing of Marlowe's warrant, his involvement with the Walsinghams, his previous notes of service to the government, his ties to Baines, the accusations from Kyd and others, and the identities of the men involved in the fatal argument have all given rise to speculation and theories of conspiracy surrounding the nature of his abrupt murder. At that time in early modern England, however, essayists and critics tended to view Marlowe's death as a sign of divine justice for his declared atheism. They repeated gossipy tales with an emphasis on Marlowe's hubris and reputation for blasphemy. Thomas Beard wrote in 1598 that he had "cursed and blasphemed to his last gaspe" and "it was not only a manifest signe of Gods judgment, but also an horrible and fearefull terror to all that beheld him. But herein did the justice of God most notably appeare, in that hee compelled his owne hand which had written those blasphemies to be the instrument to punish him, and that in his braine, which had devised the same" (150).
Marlowe's sudden and violent death was certainly felt across the theatrical world of London. He died under the age of thirty, already a well-known and incredibly influential poet and playwright.  We can only imagine what plays and translations he may have continued to contribute to the catalog of early modern literature, or what further inspirational associations he may have made with other writers and artists — were it not for that fatal night in Deptford.
BST's production of Doctor Faustus runs October 26 – November 11, 2017.
— Claire Kimball, Production Dramaturg
1  See Acts of the Privy Council in England, Vol 24, pg 244
Works Cited
Bevington, David and Eric Rasmussen, eds. "Introduction." Doctor Faustus and Other Plays, Oxford University Press, 1998.
Heywood, Thomas. The hierarchie of the blessed angells Their names, orders and offices the fall of Lucifer with his angels. Printed by Adam Islip, 1635. Early English Books Online, https://eebo.chadwyck.com/.
Hotson, J. Leslie. The Death of Christopher Marlowe. Harvard University Press, 1925.
Jonson, Ben. "To the Memory of My Beloved Master William Shakespeare, and What He Hath Left Us." Mr. William Shakespeares comedies, histories, & tragedies Published according to the true originall copies, Isaac Iaggard and Edward Blount, 1623. Early English Books Online, https://eebo.chadwyck.com/.
Kuriyama, Constance Brown. Christopher Marlowe: A Renaissance Life.  Cornell University Press, 2010.
Maguire, Laurie E. "Marlovian Texts and Authorship." The Cambridge Companion to Christopher Marlowe., Patrick Cheney, ed, 2004.
Peele, George. The honour of the garter Displaied in a poeme gratulatorie: entitled to the worthie and renowned Earle of Northumberland. Printed by the widdowe Charlewood, 1593. Early English Books Online, https://eebo.chadwyck.com/.
Riggs, David. "Marlowe's Life." The Cambridge Companion to Christopher Marlowe., Patrick Cheney, ed, 2004.
Shaw, Robert B. Blank Verse: A Guide to Its History and Use. Ohio University Press, 2007.
edited on 10-23-17