You hear the phrase "bedroom Olympics" and you immediately kick yourself. Or at least you do if you're me. (I don't know what you do if you are not me. That's your business, and I have no intention of prying, but I'm the one writing this thing, and I've got less than 1000 words, so we'd better get started, and the best way is to assume that we're basically the same, in this regard. It's a rhetorical device. You can look it up.)
If you're me (see above) then you kick yourself when you hear the phrase "bedroom olympics" because you didn't write it. Two words, five syllables, and more dense with implications that an episode of Serial. If you are me, you want to throttle the genius responsible for that turn of phrase, and simultaneously clap them on the back.
The question becomes, who is responsible for it?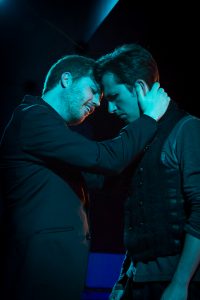 The phrase came up during a reading of 'Tis Pity She's a Whore, half of Brave Spirits' cheekily named "Incest Rep," Soranzo (Ian Blackwell Rogers) railing at his wife Annabella (Jenna Berk). You might say, well, John Ford is responsible. He wrote the play after all.
"Oh, ho!" I would say to you (you're you again, by the way. Keep up.) "Things are not always what they seem."
I've spent the lion's share of my career working on contemporary plays, often premiers with the writer still emailing drafts at 3AM. Coming to work with Brave Spirits on early modern drama has been a huge change. Because the author is usually dead. Instead of seances to contact John Ford and find out exactly what he meant in his script, an extensive table work process with the cast and crew exists to draw as much meaning out of the script as possible.
What does this change to the poetic meter imply? Can this pun translate to a modern audience? What does John Ford say not just about the people of his time, but all times? This table work bridges the distance between two eras of theatrical presentation and channels the voice of a playwright four hundred years after his death.
Which is kind of like a seance, now that I think about.
In the case of "bedroom Olympics," this was Ian's paraphrase. An idiomatic rewrite of John Ford's words. Ford wrote "belly sports," which you have to admit is pretty great too. "Bedroom olympics" became the magical incantation Ian used to reach through Ford and transform a static text into a collaboration with an author long since past (without the use of crystal balls).
Who is responsible for the play? We are, the cast, the crew, and a playwright subtly guiding and directing from four centuries away.
– Erik Harrison