Contribute to the 2018-2019 Season
On April 25, 2018, give back to your community and support Brave Spirits by participating in Spring2ACTion!
Spring2ACTion is an online giving day, hosted by ACT for Alexandria, created to support the nonprofits doing great work in our community. Since 2011, 45,000 generous donors, like you, have given more than $6 million dollars to 160 nonprofits through Spring2ACTion, making it one of the most successful city-wide giving days in the country! Give today and help us ensure that Alexandria is a strong, vibrant community for all.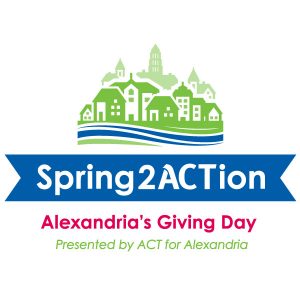 To help this work come to life, click donate below or email for instructions on how to mail a check. Donations are tax-deductible to the extent permitted by law.
Thank you in advance for your contribution! Brave Spirits is a 501(c)(3) charitable organization and your donation is tax deductible to the extent allowed by law.
Celebrate and Support at the Fête
Also contribute by attending the Annual Fundraising Fête, the winter event that brings the BST community together to celebrate and build support for Brave Spirits Theatre. Add the November 28th event to your calendar and spread the word to your friends, family, and peers to help contribute to BST's success and make a different on #GivingTuesday.
Make History
In 2020, BST is making history by becoming the first professional American theatre company to mount full productions of Shakespeare's two history plays tetralogies about the Wars of the Roses and perform them in repertory! The ambitious Histories project will be the culmination of years of work, which is already underway, and depends on the support of people like you to be successful. You can help us make history by become a fan of our Patreon page and pledging monthly donations for the next three years.
Other Ways to Support BST
Histories Patrons
Jason Aufdem-Brinke
Sarah E. Blackwell
Shelby Byrd
Ralph Alan Cohen
Bernard DeLeo
Kelly Elliott
Jeremy Fiebig
Nicola Collett
Robin Havens-Parker
Lisa Hill-Corley
Casey Kaleba
Thomas Lovejoy
James Thomas Majewski
Eric Minton
Paul Menzer
Amanda Michaels
Steven Mark Popko
Jason Reigelsperger
Victoria Reinsel
Valerie Rigsbee
Ashley Sayles
Jess Skinner
Melissa Sites
Charlene V. Smith
Diane Smith
Keith Smith
Susan Stewart
Joan Thomas
Louisa Whitlock
Leni Williams
Frederick Wynn
Special Thanks
Jessica Aimone
Dan Emberley
Lisa Smith, Convergence
Traveling Players Ensemble
Michelle Kozlak, Arts on the Horizon