One of Shakespeare's lesser known plays, Coriolanus follows a war hero's self-possessed rise and tragic fall …
"Would you have me false to my nature?"  – Coriolanus, 3.2.13-141
Written around 1608 and published in the First Folio of Shakespeare's works in 1623, The Tragedy of Coriolanus follows a Roman general who finds himself revered and then suddenly reviled by his own people. Its major source of inspiration comes from Plutarch's Parallel Lives, which gives an account of the Roman general, Gaius Marcius (or Caius Martius) Coriolanus, who was supposed to have lived in the fifth century. While the play is one of Shakespeare's lesser known titles, Coriolanus has seen a recent uptick in performances.  The 2004 production from the Hudson Shakespeare Company set the scene in 1930's fascism, the 2006 production at Shakespeare's Globe featured Coriolanus as part of a full season on Rome, the 2011 movie directed by Ralph Fiennes looked at Rome through the lens of modern warfare, and the successful 2013 production starring Tom Hiddleston staged the play in the intimate space of the Donmar Warehouse.
Shakespeare's version of the Coriolanus story transports audiences to an empire earlier in its history than the one we recognize from plays like Julius Caesar.  Rome is still tinkering with the mechanics of its representative government and political ideals, having ousted Tarquin, the last king of that realm. And while Roman society prizes the heroism and skill of victorious warriors, it has not quite sorted out how such men should fit within their ruling aristocracy or how appropriately they might serve the civic concerns of the plebians and their tribunes.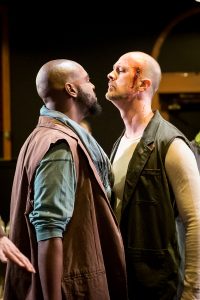 As a soldier, Coriolanus has a confidence and bravado which serves him well on the battlefield but comes across boorish and arrogant to politicians. Tribunes Sicinius and Brutus scorn Coriolanus' prideful demeanor and scheme to manipulate the people against him. They know that, though the general's victories keep him on a pedestal, he lacks the diplomacy and desire for municipal leadership. Senator Menenius encourages Coriolanus toward the office of consul and suggests that Coriolanus should bow to tradition and show off his celebrated wounds to the citizens, but Coriolanus objects. As noted by Jonathan Bate, "the very qualities that made him a great warrior – his singleness of purpose and lack of compromise – are those that make him a poor politician" (2). The soldier identity that Coriolanus carves out of his battle experience does not translate into any malleable service to his people.  He is assertive and willful but he is also obstinate and introverted. He refuses to bend his pride or principles to the whims of the public and he does not share his private thoughts or motives with the play's audience.  His mother, Volumnia, is practically the only person who can soften his resolve, but even those reformations falter. It seems that Coriolanus can find kindred spirits only in men like his Volcian foe, Tullus Aufidius, who appreciate his physical prowess and understand the steadfast mindset of his solidery.
We can see this crisis of identity unfold throughout the world of Shakespeare's play: Rome eschews a monarchy in favor of representative government but struggles to find a balance in its constituent voices and grasp the "nature of polity and citizenship" (Maus 2786); Coriolanus "associates fighting and the kind of male bonding offered in battle with manhood" but then discovers that his manhood does not measure up to the fickle expectations of his fellow citizens (Sprengnether 189); the populace cannot come to a consensus about what they value in their leaders, so they fail to find anyone who can emulate their ideals (Maus 2788); two great men of war come together in a common purpose but have difficulty navigating their respective loyalties; Coriolanus abandons his family (mother, wife, and son) to preserve his sense of pride, only to hear their trusted voices beg him for submission and humility. How can a man, reared for battle and validated by war, embrace his stoic nature when his world continually rejects him for it?
Coriolanus appears in repertory with The Trojan Women Project – a devised piece inspired by Euripides' tragedy about the aftermath of war. Staging the two together allows us to consider how the stories converse with one another. How do we view the approval or critique of masculinity, society, and government in Coriolanus when the play stands alongside a contemporary grappling with femininity, community, and politics? We hope you will join us for both productions and find out.
– Claire Kimball, Resident Dramaturg
1 All lines taken from The Norton Shakespeare, edited by Stephen Greenblatt, Walter Cohen, Jean E. Howard, and Katharine Eisman Maus, W. W. Norton & Company, 1997.
Bate, Jonathan. Introduction. Coriolanus, edited by Jonathan Bate and Eric Rasmussen, The Modern Library, New York, 2011.
Maus, Katharine Eisaman. Introduction.  The Norton Shakespeare, edited by Stephen Greenblatt, Walter Cohen, Jean E. Howard, and Katharine Eisman Maus, W. W. Norton & Company, 1997.
Sprengnether, Madelon. "Annihilating Intimacy in Coriolanus." Coriolanus: Critical Essays, edited by David Wheeler, Routledge, 2015, 179-202.
edited 2.9.2018 for work cited correction